Pancake recipe, with their golden-brown exterior and fluffy, melt-in-your-mouth texture, are a breakfast classic beloved by people of all ages around the world.
There's something undeniably comforting about the aroma of pancakes sizzling on the griddle, promising a delightful and indulgent start to the day.
In this carefully crafted recipe, we'll guide you through the steps to create the perfect stack of pancakes, ensuring each bite is a heavenly experience.
Whether you're planning a leisurely weekend brunch or a quick weekday breakfast, these pancakes are a wonderful choice.
Ingredients pancake recipe
1 cup all-purpose flour

2 tablespoons sugar

1 teaspoon baking powder

1/2 teaspoon baking soda

1/4 teaspoon salt

1 cup buttermilk (or 1 cup milk with 1 tablespoon white vinegar or lemon juice; let sit for 5 minutes)

1 large egg

2 tablespoons unsalted butter, melted

1 teaspoon vanilla extract

Optional add-ins: chocolate chips, blueberries, or sliced bananas
How to prepare pancake recipe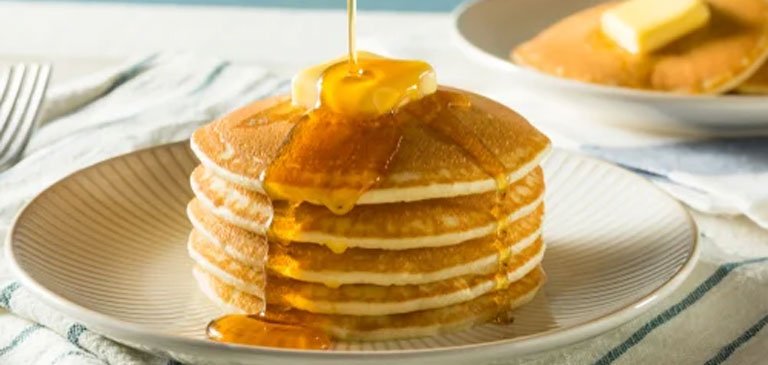 In a mixing bowl, whisk together the flour, sugar, baking powder, baking soda, and salt.

In another bowl, whisk together the buttermilk (or milk and vinegar), egg, melted butter, and vanilla extract.

Pour the wet ingredients into the dry ingredients and stir until just combined. It's okay if there are a few lumps; overmixing can make the pancakes tough.

If you're adding any optional ingredients like chocolate chips, blueberries, or bananas, gently fold them into the batter.

Preheat a griddle or non-stick skillet over medium-high heat. Lightly grease with butter or cooking spray.

For each pancake, ladle about 1/4 cup of batter onto the hot griddle. Cook until you see bubbles forming on the surface, then flip and cook the other side until it's golden brown.

Transfer the pancakes to a plate and keep them warm in a low oven while you cook the rest of the batch.

Serve the pancakes warm with your favorite toppings like maple syrup, butter, fresh fruit, or whipped cream.
See also this recipe:
Banana Bread Recipe – The Best Recipe
This recipe will yield about 8 to 10 fluffy and delicious pancakes. Enjoy your homemade pancakes for a delightful breakfast or brunch!
This pancake recipe is your ticket to creating delectably fluffy and flavorful pancakes. Whether you're a seasoned breakfast chef or a novice in the kitchen, these pancakes are simple to make and sure to be a hit.
So, get ready to enjoy a stack of warm, golden pancakes that'll brighten your morning and satisfy your taste buds. Happy cooking and indulging!