Meatloaf recipe – Picture this: a juicy, flavorful meatloaf that's not just dinner; it's a celebration on a plate. We're talking about a symphony of spices, a dance of herbs, and a texture that's gonna make your mouth do a happy dance.
This ain't your average meatloaf – it's a culinary adventure that's gonna have your family and friends begging for seconds. So, grab your apron, crank up the tunes, and let's create some meatloaf magic!
Ingredients for the best meatloaf recipe:
2 pounds ground beef, 80/20 lean-to-fat

1/2 cup finely chopped onion

1/2 cup finely chopped celery

2 cloves garlic, minced

1/2 cup plain bread crumbs

1/4 cup milk

1 large egg

2 tablespoons ketchup

2 tablespoons Worcestershire sauce

1 teaspoon salt

1/2 teaspoon black pepper

1/4 cup ketchup (for glaze)
How to prepare meatloaf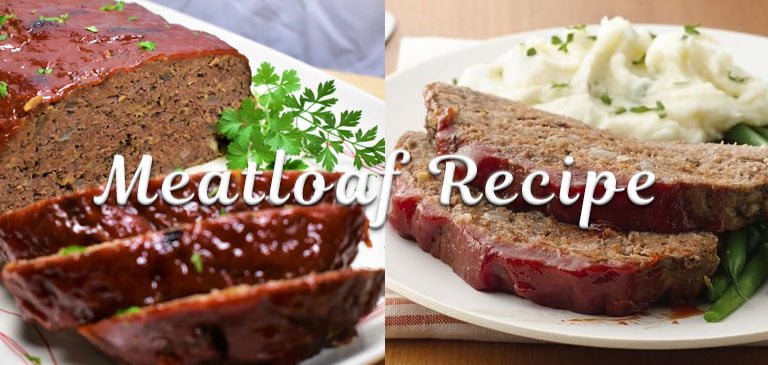 Preheat oven to 350 degrees F (175 degrees C).

In a large bowl, combine the ground beef, onion, celery, and garlic.

In a small bowl, whisk together the bread crumbs, milk, egg, ketchup, Worcestershire sauce, salt, and pepper.

Add the bread crumb mixture to the beef mixture and mix well.

Press the meatloaf mixture into a 9×5 inch loaf pan.

In a small bowl, combine the ketchup for the glaze.

Spread the glaze over the top of the meatloaf.

Bake for 1 hour, or until the internal temperature reaches 160 degrees F (71 degrees C).

Let stand for 10 minutes before slicing.
See also how to do it:
Tips:
For a more flavorful meatloaf, use a combination of ground beef and ground pork.
Add some shredded cheese to the meatloaf mixture for extra flavor and moisture.
Let the meatloaf rest for 10 minutes before slicing to allow the juices to redistribute.
Serve the meatloaf with mashed potatoes, mashed sweet potatoes or green beans.
Enjoy!