Banana bread recipe, with its warm, comforting aroma and moist, banana-infused texture, is a timeless classic in the world of homemade baked goods.
It's the perfect solution for those overripe bananas sitting on your countertop, just waiting to be transformed into a delicious treat.
In this recipe, we'll guide you through creating the best banana bread you've ever tasted. Whether you're a seasoned baker or a kitchen novice,
this simple yet delightful recipe will help you make a loaf of banana bread that's perfect for breakfast, snacking, or sharing with friends and family.
Ingredients banana bread recipe
2 to 3 very ripe bananas, mashed

1/3 cup melted butter

1 teaspoon baking soda

Pinch of salt

3/4 cup sugar

1 large egg, beaten

1 teaspoon vanilla extract

1 1/2 cups all-purpose flour

Optional: 1/2 cup chopped nuts (such as walnuts or pecans) or chocolate chips
How to prepare banana bread recipe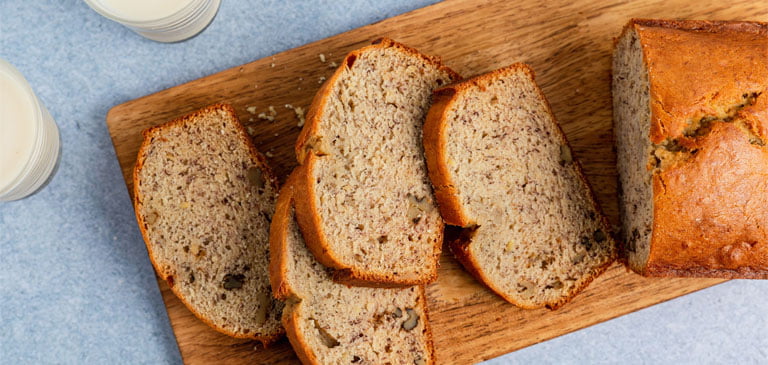 Preheat your oven to 350°F (175°C). Grease a 4×8 inch (10×20 cm) loaf pan.

In a mixing bowl, mash the ripe bananas with a fork until smooth.

Stir the melted butter into the mashed bananas.

Mix in the baking soda and pinch of salt. Let this mixture sit for a couple of minutes.

Stir in the sugar, beaten egg, and vanilla extract.

Add the flour and mix until just incorporated. Be careful not to overmix; overmixing can make the bread tough.

If you're using nuts or chocolate chips, fold them into the batter.

Pour the batter into the greased loaf pan.

Bake in the preheated oven for 60-65 minutes, or until a toothpick inserted into the center comes out clean. Baking times may vary, so keep an eye on it starting around 50 minutes.

Let the banana bread cool in the pan for a few minutes, then transfer it to a wire rack to cool completely.

Slice and enjoy!
See also this recipe:
Pancake Recipe – Easy And Delicious
In conclusion, our journey through the art of making banana bread has hopefully left you with a newfound appreciation for this classic baked treat.
The simplicity of this recipe, combined with the heavenly taste of moist, banana-infused bread, is a testament to the magic that can happen in your own kitchen.
Whether you enjoy it fresh out of the oven, toasted with a pat of butter, or as a sweet addition to your morning coffee, banana bread has a way of bringing comfort and joy to any occasion.
So, the next time you find yourself with ripe bananas, don't let them go to waste; instead, whip up a loaf of this delectable banana bread and savor the delightful results. Share it with loved ones, or indulge in a quiet moment of personal indulgence.